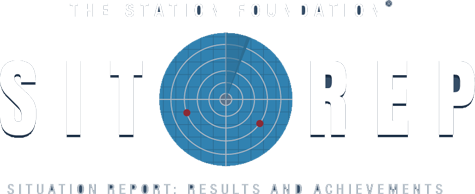 The SITREP, or Situation Report, is our periodic update about our operations and their life-changing effects on real people.
Homecoming for the SOF Community
The effects of combat extend well beyond the battlefield – into the lives of service members and their homes. This is especially true for our Nation's Special Operations Forces (SOF). The SOF lifestyle makes it extremely difficult to preserve the health, wellness and readiness of SOF members and their families.
Reviewing recent trends, the SOF Community realized that the pace and risk of missions would only increase, placing more pressures and demands on SOF families. We saw an urgent need to improve SOF members' quality of life – by helping them regain their balance and manage stress. The result was The Station Foundation.
The Station Foundation's Projects
Montana Experiences
Come visit us at our sanctuary, Base Camp Jimmy, for an 8-10 day immersive experience.
The Station Foundation's Homecoming project preserves the health, wellness, and readiness of Special Operations Forces (SOF) Families. Through these week long events The Station helps SOF Warriors (active duty and retired), Spouses, and Children increase self awareness, improve family connectedness, and manage stress and energy levels.
Programs Include:
The Station's Legacy project makes good on promises made to our Fallen Warriors: You are never forgotten, your family is taken care of, and your life serves as a source of strength and love. The Legacy project supports Gold Star Sons and Daughters beginning at adolescent age. The Station continues to serve as a support system for this Community throughout their lives.
Programs Include:
Local Experiences
The Station's local experiences include single day events to long weekend getaways offered in and around your hometown. Events are currently presented in the Virginia Beach and San Diego area with goals to expand to more cities in 2022. If you are interested in supporting expansion to more cities, please reach out to Shannon Stacy.
The Station Foundation's outreach project, Interwoven, helps reach the SOF Community in their hometown. Through virtual and in-person experiences, Interwoven blends The Station's culture and curriculum into participants' local community.
Programs Include:
Guided by those who have walked the path
The Station is staffed by warriors and families fully dedicated to the SOF community. Helping participants navigate the rough terrain of transition and reintegration back to civilian life. Offering experience, strength and hope to individuals as they identify and translate strengths to new arenas.
Whether on a week long Transition Azimuth Check (TrAC) or during a 10-day bonding experience with SOF loved ones, our staff provides families with an excellent starting point to reset and rebuild. Encouraging participants to accomplish critical goals regardless of the setbacks or obstacles. Utilizing a strong peer network, we honor commitments to one another and establish a healthy, positive, inspiring community founded on the success of every team member. We would have it no other way.
Partners are vital teammates of The Station Foundation. Their donations, time, and talents contribute greatly to our mutual success. Because of you, our donors, The Station Foundation eliminates a critical void in preserving the health and well being of our Nation's most elite warriors and families.